Recently, my brother made me aware of The Toy Story Theory.
If you are familiar with Toy Story, I'm sure you'll find this interesting.
This is the theory: Andy's mom is Emily, Jessie's previous owner.
At first I
couldn't believe this, but then I looked closer -
Look at Andy's cowboy hat he frequently wears in the movies:
As you can see, Andy's hat is noticeably different from Woody's. But why wouldn't Andy want to wear a hat that closely resembles the one worn by his favorite toy?
It's no secret that Andy has a close connection with Woody. In Toy Story 2, his mom (who we only know as Ms. Davis) mentions that Woody is an old family toy.
Remember that Woody doesn't even recall that he is a collector's item - a toy made in the 1950s. This is a deviation from other toys who know full well where they come from. It's possible that Woody doesn't know because he's been in Andy's family for a long time, possibly belonging to his father.
Take a close look at Jessie's hat: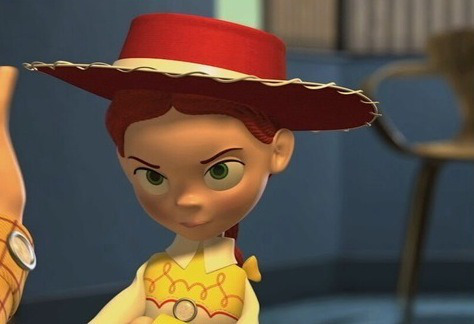 The hat looks familiar. It's the same red hat with white lace that Andy wears. The only difference is that Jessie's hat has a white lace around the center. But look at Andy's hat again.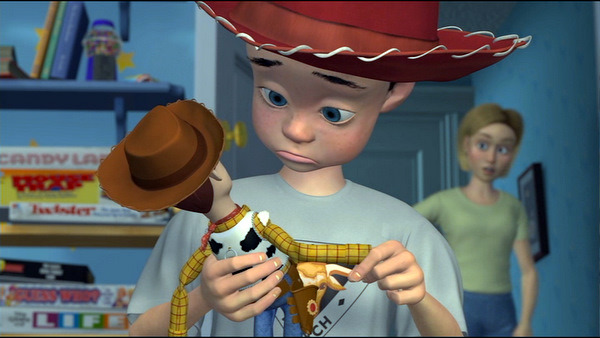 There's a faded mark where the white lace should be. Why do you think that is? And what does Jessie have to do with this?
(Bob Saget's voice) Kids, you remember the story of Jessie. Her owner Emily grew up with her, much the same way as Andy. She was incredibly loved, but Emily eventually gave her away when she grew older. Jessie ended up in storage for a long time, as confirmed by her in the movie when she has a literal panic attack over having to go back.
Take a close look at what's on this bed in Emily's room: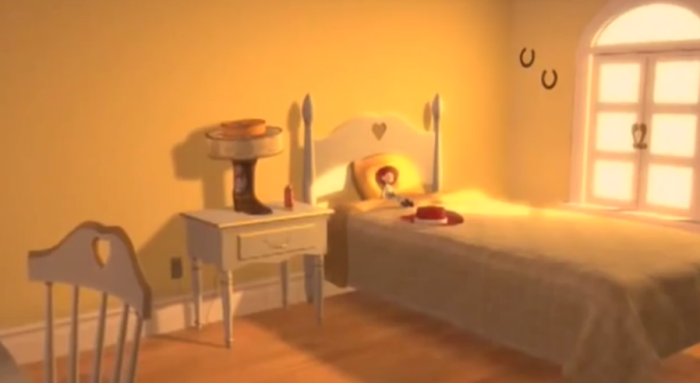 That is a hat that looks extremely similar to, you guessed it, Andy's. The room is also pretty old-fashioned, leaving room for this to take place years before Andy was born.
In fact, you can clearly tell that this isn't modern day with shots like these: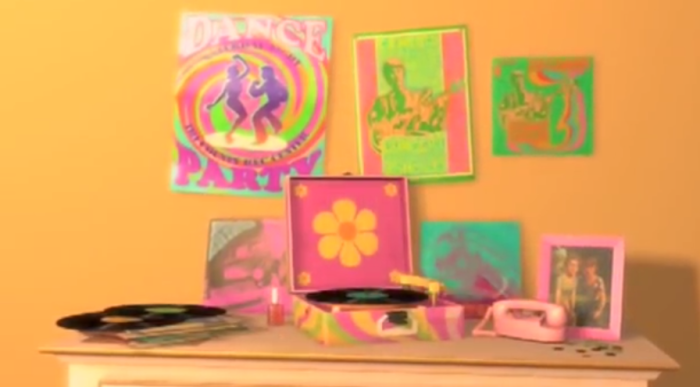 The only difference between the hat that Emily wears throughout this sequence and Andy's hat is an extra white lace around the center, which is visibly missing from Andy's hat. Otherwise, the hats are identical.
Also, in the donation box that Emily puts Jessie in, we don't see the hat. We do see other remnants of her connection with Jessie, but the hat is noticeably absent. The box isn't even big enough to hold it. So Emily held onto that hat...and maybe passed it on to her child, who would grow to also love a cowboy doll.
We never get a closeup of Emily's face, but we do see that she has light, auburn hair as a teenager. Also, it is very short.

The middle picture is closest to the strawberry blonde color we see when Emily is young. It's perfectly reasonable to assume that her hair lightened as she aged, which is clearly the case in these photos (or she could have dyed it).
Here's what we know for sure:
We don't know the first name of Andy's mom. We don't know Emily's last name. We know that Andy's hat and Emily's hat are the same. We know that Emily is old enough to be Andy's mom. We definitely know that Pixar is perfectly capable of sneaking this in.
She was probably indifferent and believed it to be a different version of the same toy. How would you respond if you saw your child with a toy that looked like one that you had as a kid? Your first assumption probably wouldn't be that they're the exact same toy.